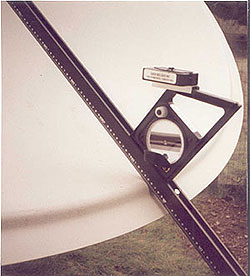 The NEW most accurate Elevation and Azimuth Setting
The Site and Satellite Finder is placed across the Dish. It is attached by the Alignment Scale hooked over the antenna edge. AZ-EL setting can be checked simultaneously. This method can be used on 0.3M to 4M (1 to 13 FT) antennas.
To align the larger antennas, 4.5M to 18M (15 to 60 FT), a laser beam with reflective target placed at the top of the dish will be used. See Data Welder Model 170601 Laser Directed Site & Satellite Finder.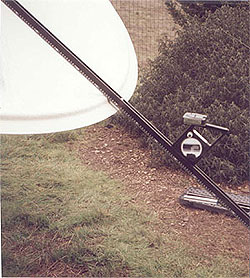 The Site and Satellite Finder is placed below the steel mesh in order to avoid the steel to interfere with the compass.

Elevation and Axis Setting of the Antenna

The Site and Satellite Finder placed in the back of the
Antenna attached by the magnetic scale.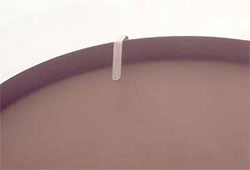 Special designed alignment scale
hook to fit dish edges up to 3½"
wide.